I ripped your Sissy panties off and started to spank your ass. "You fucking, slut you aren't supposed to be fuck anyone unless I say so. One after the other I give your sissy ass spankings. "Since you want to slut that pussy out while I'm not around now you will be punished" I say as my bbc bull friends walk in. "You will get used like a filthy whore since you want to act like one without my command".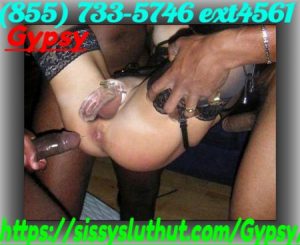 "Open your sissy mouth and start fluffing some big black dick" I say as I force your mouth open. Therefore, you start sucking those big black dick bulls just like I taught you. "Keep going you sissy whore bitch" I say as I lube your sissy pussy up. "Come fuck this whore" I tell one of my bbc bulls as I spread your ass cheeks. Then he stuffs you with his fat cock. "Keep sucking the other dicks while you get stuffed like a worthless pig".
This should remind you that I am your mistress, and you belong to me" is all I say while laughing. Your pussy is getting stretched out and I love it. I love watching you get used, especially as a punishment. Therefore, after you got filled up, you got another bbc pushed inside tour sissy cunt. That's part of your Sissy slave training and sometimes you need to be reminded. After you get filled up by all the bbc bulls I grab your face and say, "Now you remember your place and who you belong to?". You respond with "Yes mistress Gypsy, I am your sissy slave bitch".