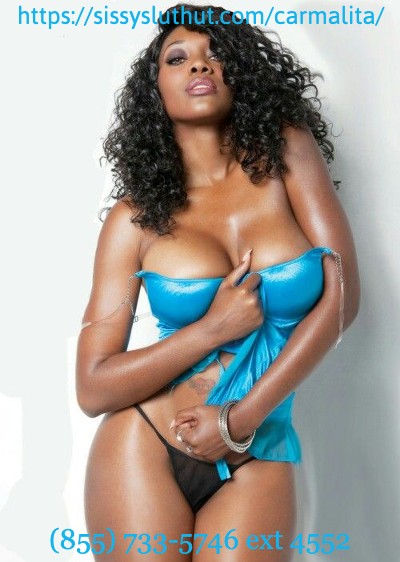 Mistress Carmalita here. I am auditioning for new Sissy Boy Trainees. Cause this current batch I have is trash! Completely useless. Beyond redemption. Pathetic! I need a Sissy Boy that's going to obey my orders, be completely submissive and servile, no screaming like a banshee when I give their little ass cheeks the paddle, but definitely screaming when one of my big black studs from my personal stable fills their sweet little boy pussies with some big, stiff, black cock, then you can scream like a banshee all you want! You see there is a time and place for everything, my precious little Sissy Boy Slaves..I demand full obedience, don't wanna hear no back talk, and thinking for yourself is totally out of the question. You think what Mistress Carmalita tells you to think! And that is thinking about pleasing Mistress Carmalita and thinking about a big black cock! You will be taught to dress like a good little Sissy Boy, beautiful skimpy outfits, halters, lace bras, dainty little panties, short, short skirts and pretty heels. You Sissy Boy sluts better know how to walk in their heels and look sexy doing it, or you will incur the wrath of Mistress Carmalita, and trust me, you do not want that! So if you think you have what it takes to be a Sissy Boy Trainee under the tutelage of the one and only
  Mistress Carmalita, call me. I'll see if you have what it takes to be a Sissy Boy Slut. Until then, stay on point and keep practicing! Because hey, you never know, one day you too can join the stable of Mistress Carmalita's Sissy Boy Sluts.
     Now get back to work!