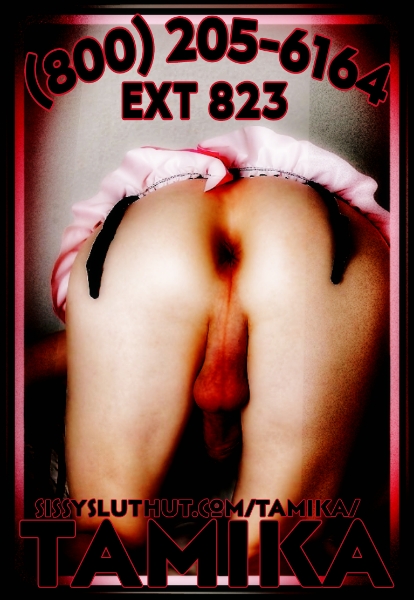 Do you know how many sissy phone calls and texts I get from insecure little femi-men who aren't sure of their sissified personas?  Way too fucking many!  Be proud of the priss you're becoming, no matter what stage of boy slut you're currently navigating.  Confidence is key in concocting your clitty craving candy doll self.  Always remember progress is success.  If you're trying, you're winning.  Just stop whining about it already, you dumb cunt.
Some guys keep their sissy side a secret and just talk with me about it on my Sissy Slutline® and never let the girly girl inside of them out into the real world.  All of my sissy students are leaps and bounds ahead of them the moment they walk through my door.  They've made the decision to bring the boy-bitch out of their pathetically ill fitting man bodies and are willing to let me guide them on their way toward wimpdom.  I just wish they would be secure in their decision making and my guidance and go with the clitty clamps and pink lady lingerie I force them to wear.
Yes, your garter belt looks great and your pretty wig really makes that mouth of yours look oh so fuckable.  You'll have every big black cock in town lined up at your door to get a piece of that mouth pussy.  Is that what you want to hear?  Well, it's true.  We cleaned you up, waxed you down and bleached the hell out of your impossibly dark asshole.  You're ready to go, Nancy Boy.  Take a dick or two up that wussy ass pussy of yours, feel the confidence you can gain from taking a couple of mandingo dicks right up your butt.  Whatever, just stop fucking calling and texting me late at night with this shit!  I see enough of your asshole as it is!