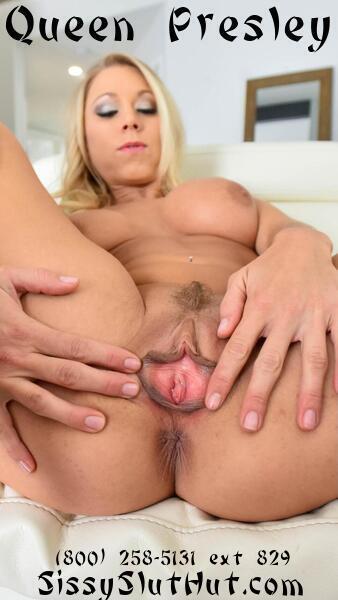 This is the way of the world, babydoll. I know you crave more than anything to cum, but you're going to have to hold it; aren't you? Yes, you are darling. Queen Presley hasn't given you permission to cum for her yet, has she? No, I haven't. Hush your pretty mouth, and quit your begging. There you go. Take your hands off that pathetic cock, good boy. Listen up, and pay attention. I'm the sissy Queen, but I keep little boy toys too. Both sissy girls and beta bois serve me well here in my Castle, and both keep my cunt sopping wet.
I crave to put you in your place. Kneel here before me, so I may place my leg upon your shoulder. Now, worship me. Yes, darling, use your tongue and show me how much you truly appreciate the opportunity of licking my royal cunt. If you can make me cum, get me to squirt absolutely all over your face, I surely swear you'll be allowed to cum. I'll even be very sweet about it darling.
I'll lay you down, kiss you sweetly, and ride you slowly with my dripping wet Queenly cunt. I'm going to milk every last drop of sweet cum in those balls right out of you with my tight, hot fuck hole. I'm taking good care of my boy tonight, aren't I? You're going to get used to being spoiled as long as you're worshiping and pleasuring your Queen.
Know that as long as you tribute me, and keep me contentedly cumming, I'll treat my pet quite nice. Can you imagine bathing me every day? Getting your cock milked by this dripping wet pussy every single day? Have I mentioned my very sexy and proper British accent? I didn't need ro. I knew you were already sold. The world is a cruel place. Step into my fantasy land and serve me.