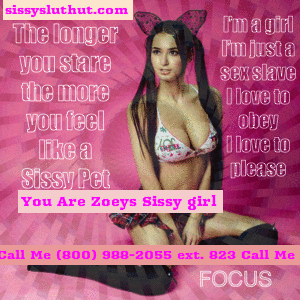 It would be your undoing.
You knew coming to me for online sissy training would unravel all of your male ego. 
Now Lay back and listen to me. You are safe but now we are going to a world where you can be the female you always wanted to be. Let go. Breathe in and out deeply. You are a woman, and will act as such. When you open your eyes you will be in a large bedroom. This is your room. Add your frilly curtains, a big four poster bed with pink satin sheets and a fluffy while duvet. The carpet is soft under your bare feet. You look down to see your toes are perfectly manicured with pink glitter polish and as you look at your hands you see a perfect American manicure on white tips! Hold your leg up, you are tanned and perfectly hairless. The Long dressing mirror is on your left look at your body. Your hair is grown out, you have become slender with a soft girly shape. Your heart beats fast as you look into your own eyes. Look at that sparkle. Now take three steps forward and kiss yourself. Because now we are going into your huge sissy closet. There you find thousands of dollars in perfect outfits. Purses, heels, dresses for every occasion. In the drawers in front of you you find hose, beautiful tiny panties ,negligees and bras. Dress yourself, tell me about everything you're putting on. 
Now reach down and touch your pussy, your clit is a bit bigger than most women, but we can disguise that. Play with it in your panties, because now you are floating through rooms and you end up in a room where two brothers are asleep. They awake to say good morning beautiful, Naked Adonis men come and bow at your feet before lifting you up and bringing you back to your beautiful sissy room! This is where you begin serving them and those large cocks. You are manhandles and tossed around to be used as a personal slut to your two boyfriends. Double penetration as a sissy is the most divine way of exploring sissy Hypno training, don't you agree? Can you feel each cock inside you, and down your throat now?