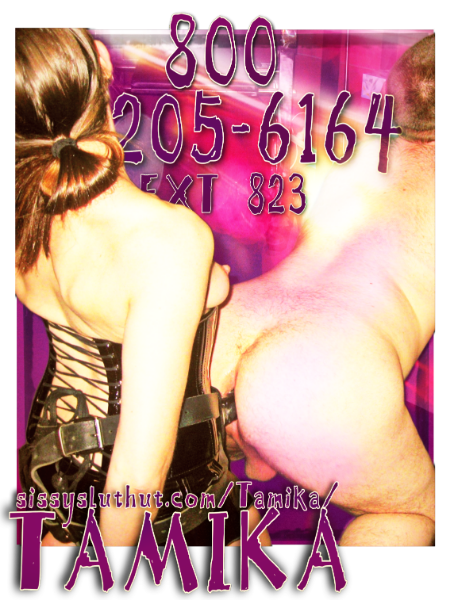 When hornballs call my adult phone chat lines for some filthy phone bone action, they get to hear me literally fucking the ass end out of my slutty little sissies.  It's a pretty great way to train my tramps to take cock before I actually make them tackle the real thing.  They're going to have to stuff so much dong into their sissy slut butts out in the real world, I might as well start them out a little bit easier, strap one on myself and stick it to them beforehand.  Then I let my cum loving callers hear it all happen and make bank on both ends!
Femboy slave slut training is rewarding on so many levels.  Every last one of my bitch boys pays me well for my services and every last drop of cum that my pussy coveting progenies presence produces comes with a charge.  From the phone pervs that jerk their junk while they listen to me wailing away on one of my wannabe women to the fat BBC's that come by to drill out my darling dollies and blow their buttholes wide open, to name a couple, everyone pays.  Everyone.
Why do you think they call my Mistress K?  It's not because there's a "K" in my name, that would be fucking stupid.  I got my sissy slut dom name by making a stack my very first day subjugating sissies on my own.  Stack and a half, really, but Mistress K.5 sounds like some sort of domination robot.  I've nurtured my slutty manchick pimp-ire for a long time now, I'm pulling in more loot than I've ever seen in my entire life and loving every minute of it! 
I've been raking in plenty of cash from exploiting my cuntboys and I don't plan on slowing down anytime soon, on the bankrolls or the buttholes.  Give me a ring on my sissy phone, set up a chat session, make an appointment for my peep holes or, if you have a big ol' dick, let me know if you need to blow off a little steam and a load or two inside of a clitty cream queen.  I got you covered if you got the funds.