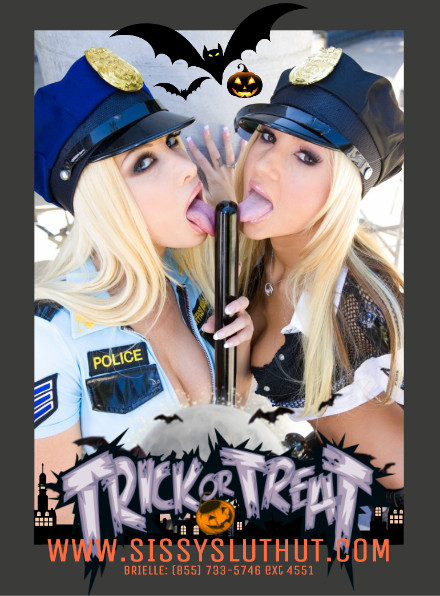 You closet sissies finally have a reason to dress up like women… Lucky for you I am hosting a Sissy slave training party. It'll be a safe place for you faggots to be yourself. I even have a glory hole room that will have Big black dicks dangling through the holes in the wall. Mouth watering, I know! Only the best sissies with the hottest costumes will gain access to that room. I know a few of you sluts might be a bit too shy to prance around the streets dressed up like a total slut.
It is the one time of the year you can pull this off without question.
All the goddesses will be dressed as sexy cops… I have a big black baton that I'll be preparing your mangina with before sending you off to faggot slut heaven. Forced feminization will be necessary for the femboy faggots, that think they can attend this event without being dressed like a slutty fairy. All faggots are welcome! Make sure to have a nice thick buttplug stretching that asshole of yours. So when you bend over, you can excite Daddy with that gleaming ruby gem…
Finally, you will have an excuse to set aside those dildos and twirl that nice juicy ass of yours on a real bull.
It won't be gay if I have to hold you down to have you bred… is it? Whatever sorry-ass excuse you want to use to try and keep your dignity. Tonight is the night you will accept that you are a faggot; there is nothing you can do to change the facts! I cannot wait to see the extreme bulge in your stomach when you are forcefully fed those knotted Big black cocks. The look on your face as you feel those thick warm cum shots cum-pile inside of your man pussy will be priceless.
Don't be shy Online sissy training prepared you for this day.