I'm a BBC sissy trainer to pathetic sissies like you. Ones that would be lucky to lick my cunt after I've been stretched out by a thick black rod. Just look at it. Your cock will never look like that. His massive pole puts your pathetic clit to shame. I wouldn't even be able to wrap my hand around your cock. 
That's why you're a cute little sissy in training. Any woman who has seen a big black dick is going to be severely disappointed by your tiny little prick. Honestly, she might even laugh at your face. I would. Tiny dicklets like yours should never be inside of a pussy. They look better in a pair of panties like every other clit.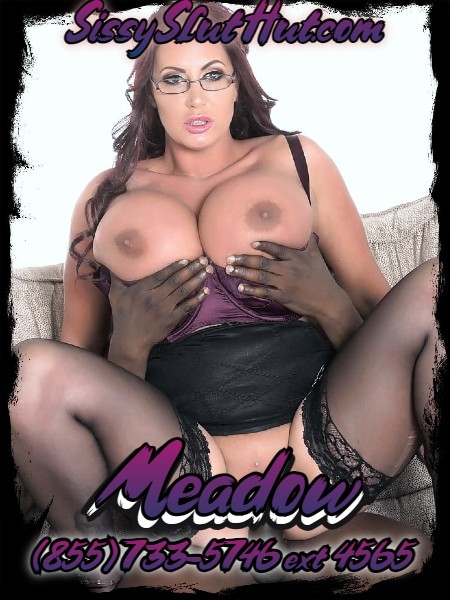 Be A Good Slut For Your BBC Sissy Trainer!
That's why you're stroking off instead of fucking me. You're lucky to be allowed to watch. You get to fuck your hand with your useless dicklet and try hard to last as long as he can. Cumming into your panties when he pumps me full of his cum. Crawl to me you pathetic little bitch. I know you want a taste. Slide his meaty cock out of my cunt and lick him clean. And then lay there like my pathetic sissy whore and let me pour his cum in to your mouth. I want to watch you drink a real man's cum. It's just one step of many on your forced feminization journey.
All that testosterone turns into estrogen in your mouth. Each load you swallow gets you closer to being a real girl. You've already failed as a man. You will always be a pathetic little sissy. Dedicate your life to being my feminine little fuck toy. And if you are a good toilet for me, I'll reward you with what you really want. That fat hog rammed into your horny boy pussy. You want him to push those panties aside and spread your sissy ass. Show off that slut hole and ram his cock balls deep into you. Beg that big black cock to gape your fuck hole. I want to watch you beg.