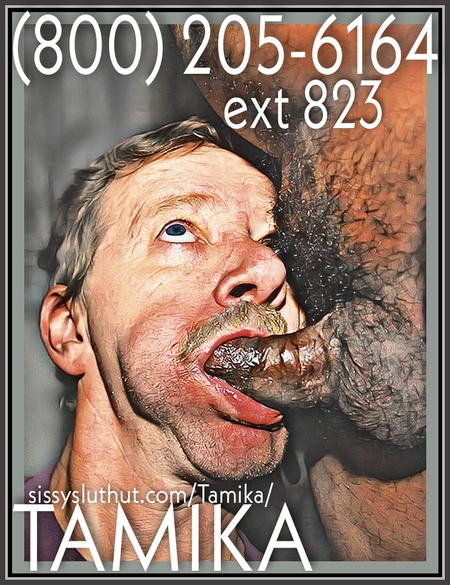 Some femboy wannabes don't even know when they need to take a big black cock, so it's lucky for them that they have a BBC sissy trainer like me to tell them exactly when they have to satisfy a dark and drippy, thick and sticky prissy pounder.  What's the best way to teach a closeted old fag how to be an anaconda pleasing sissy supreme?  Three simple words…  Ass to mouth.
Take Geoff, for instance.  Geoff came to me needing some sweet sissification so badly that he was literally in tears begging me for help.  I told him to get up and stop snotting on my pumps then led him down the hall to my neighbor DJ's apartment.  DJ is always happy to supply his supple sable fuck snake for the purpoes of putting my fagbois in their place, but he really took a liking to Geoff.
When he answered the door, I didn't even have to tell him what was up.  He took one look at Geoff's simpering face and forced him down to his knees.  DJ grabbed a handful of the broken man's graying hair, slapped him in the face then shoved his big black bone deep into Geoff's mouth.  After making him gag a few good times, DJ pushed his man pussy over to the couch and bent him over the arm, ripping the Wrangler's off of Geoff like they were made of paper.  With a grunt and a gob of spit, my friendly neighbor jammed his massive meat hard into Geoff's unready asshole and pumped hard.
Once he stopped screaming with every thrust, DJ knew I wanted the daft sissy fuck doll to taste his own shit, so he sat on the couch and screwed a mudhole into his mouth.  He went back and forth like that for an hour or so until, when he was bouncing Geoff's face on his boner and grinding his head all on it really hard, he blasted a huge load so deep into the back of the Mrs. Man's throat that he hacked and gagged it up making it shoot out of his nose.
Ass to mouth with a BBC is how I start all of my unsure sissies out on their track to greatness.  It makes them dive head first into the wild world that they so desperately want to be a part of.