You've been sitting here talking to me about not Being able to take some big black cock that you're so scared of. Today is the day you're about to learn the trick to taking a big BBC. The biggest key is relaxing your throat and controlling your breathing. 
Whether That Cock Is going in your pussy, is going in your mouth, it's going in your ass, but it's going somewhere, so you better breathe. BBC is an extraordinary situation they have they are so big thick sturdy cocks that're gonna make you stretch open almost every time.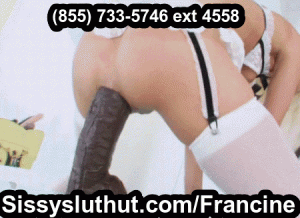 I'm gonna start with a big BBC, and I'm gonna make you take it. Put it all the way down your throat. I need you to spit on it like a good little bitch. If you gag I'm going to slap you with this Black Dildo and shove it back down your throat. You better suck on the like you mean it like it's the best thing you ever put in your mouth. I need you to go ahead and take it all the way down right now. You should be doing this like you're just sucking on the lollipop. I'm gonna train you to take the biggest BBC sucker out there. This BBC sissy trainer is gonna have all the boys in the yard for you.