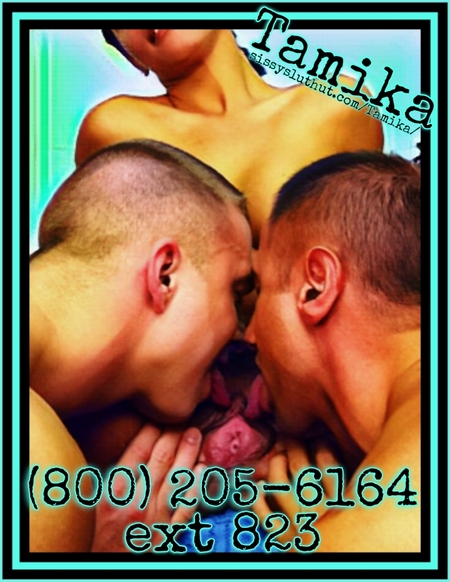 The ins and outs of forced sissy training are complex and tricky to navigate if you don't know what you're doing.  You can't just tell a perfectly straight guy to suck his friend's cock and expect him to comply without a second thought.  If gay doesn't come naturally to someone you have to lead them there gently but with a firm hand. You have to make them feel like they've been missing out on something their whole lives by not giving in to the sissy inside of them that's just dying to break out of their closet of normality.  So, I make my pussy the main event of the training session and feature their future clitty's as hard little accessories to my domineering dick drainer.  
For instance, this morning I had two timid trainees spit roast me on my balcony so everyone could watch.  Once both boy-girls were good and worked up I took the meat out of my mouth and told that horned up he-bitch to eat my pussy while his cowardly colleague pounds the shit out of me.  They never know how to position themselves so that they don't have a saggy sack sweep across their face or get slapped in the chin by a pair of bouncing balls… because they can't!  In that position there's no way to avoid that other dude's dangly bits so in order to properly eat me out, which is a must, he has to get up close and personal with his buddy's boys!  They were both a bit hesitant to touch each other at first but after a couple of slight slips of the tongue off of my snatch and onto that sack, they started getting into it, licking and fucking more freely.
The next trick is pulling off of that rod a bit extra as the panting pumper pulls back for his next forceful thrust so that it pops right out of my tight pussy.  When he pushes his hips forward again his cock veers off of my mound and smacks the snatch sucking sissy right in the face, every time.  Today I got lucky and when that shaft came shooting forward it ricocheted off of my clit and went right into his friend's open mouth!  To my enjoyment, he didn't back off of it at all.  He kept that pole in his puss until it packed his cheeks with chunky cum, like a good little femboy.
Forced sissy training is easy, you just have to do a bit of psychological manipulation along with the physical transformation.  If you can get a couple of hetero bros to make out on your snatch, you can get them to do whatever you want.