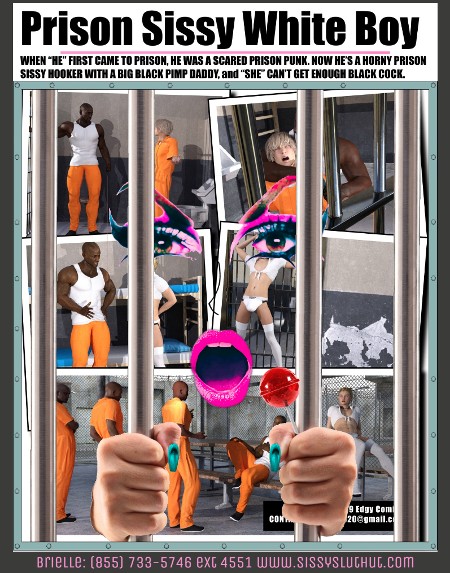 One of my White Sissy Bitches got turned out in a prison cell. She was dominated by Big Black Cocks! The almighty tatted-up slut, was a runner and a bloomer washer behind the wall. She even got creative and started making Sissy panties out of bed sheets. She would rinse them in dye and turn them pretty, like soft pinks and seductive red shades.
Ms. PrisonBae is considering going on a walk downtown in a miniskirt with her mangina peeking out, willing to take the risk of indecent exposure. Anything to get that cock craving pussy of hers stretched again. The slut has a family at home who she was released too. She doesn't know how to tell her wife that she wants to be bent over and treated like a sissy bitch. We just started Online sissy training!
As of now, we are working on her portfolio… Decisions were made and her wifes' lingerie fits her quite well. I had her bent over with her panties held off to the side by her grape smuggling sack. Her pretty little gaping pussy stared right into the camera lens. There is no denying from the slickness of her mangina and the glare in the final shot; that she is wet and ready to be fed a thick creamy load of jizz.
In the meantime, we have her anal stretching 3 times a day. Once in the morning, after lunch, and of course dessert after dinner… Who wouldn't want a creampie? For now, she will be whipping her clit and eating her cum, but this is for now. Our first Sissy training session is out of the way and everything is set up. During our next session, I will be witnessing her slide her pussy back on a big black cock; to satiate her cravings.