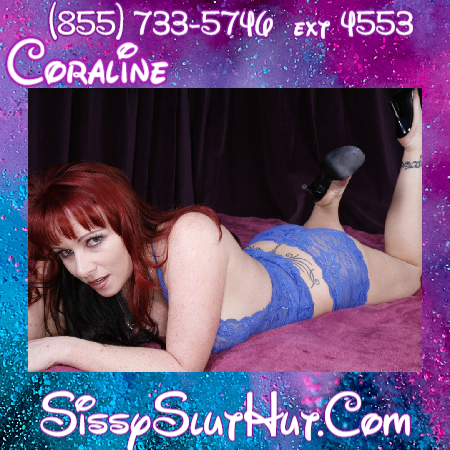 Online sissy training is the next best thing to hiring a mistress. For many guys, doing anything sissy related in real time cannot happen because of a wife at home who has no clue her hubby thinks about cock. I train a variety of sissies. However, most are married men and unable to do anything outside the home. Sometimes though, wives go on vacation. And when wives are a way, sissies can suck cock.
I went to the glory hole with one of my sissies over the weekend. However, I believed him when he said he was going to the glory hole. I know when I am listening to a porn movie versus the real thing. Although I play dumb, I always know. I trained this sissy for a year with dildos and garden veggies. He considers himself a cocksucker thanks to sissy training with me. However, can a sissy really be a cock sucker if he has never swallowed a load of cum?
Not in my book. A cock sucking sissy needs the real thing. So, sissy Tammy finally made it happened. I spoke with my sissy while she drove to the glory hole about 45 minutes from her town. She found a Lion's Den along the highway geared towards truckers. I have been in one before. Biggest sex complex I've ever seen. They have glory holes, a sex store, peek-a-boo shows and a little porn theater too. Largest collection of DVDs I had ever seen. And do not get me started on all the sexy toys you can get there.
I Love It When A Sissy Gets Cock for Real
Of course, I helped Sissy Tammy find the place. Sometimes, a sissy trainer needs to locate cock for her sissy if she is ever going to get her sissy off the couch. I could tell Tammy was in a car. A car gives a certain sound. I talk to many callers a day in their car because it is the only time that they can be alone. I heard her enter a store and heard the background people as she took me on her adventure.
Once Tammy was in a glory hole room, we talked proper etiquette and stuff. She knocked on the wall and a big cock popped through. Although she has sucked many dildos, this was her first real cock. And I was there listening to her be her best sissy self.  She slobbered on a few cocks, and she sounded like she did a wonderful job. She even had her sissy panties on. Last year, she purchased a few of my pretty panties. Although I had to send them to a PO Box, she wears them as often as she can.  I felt proud of Tammy sucking her first cock.
If your wife every takes a girls vacation, or goes to visit family, we should seize the moment to make you the perfect sissy too. Even though you have a wife and a family, does mean you cannot be a cock sucking, panty wearing sissy.