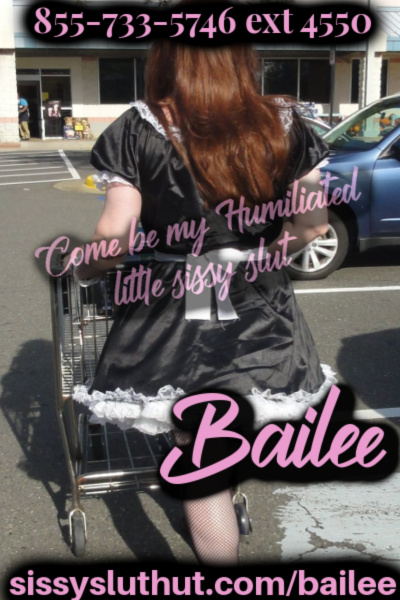 Humiliation Phone Sex is a favorite of mine. My favorite little slut met me when I got home last night, she was supposed to have the whole house cleaned to my standards. You see, I had actually allowed her to taste that sweet sweet pussy of mine the night before, in exchange for her promise of cleaning like a good little slut. I'm sure you already know where this is going though, I got home from a day out shopping with my girlfriends, only to find the house exactly how I left it. Even a little worse if we're being totally honest.
So, as a punishment I made him put on the little maid outfit I purchased him while I was out with my friends. He wasn't very pleased when he saw what I removed from the bag. He really thought he was just going to be able to get away with it. When in all reality this was just the start.
I actually locked him tight in the cage he hates so much. It's got this metal sound that goes right in the ureathra. It can't be that terribly comfortable. But it's one of my favorite things for him to wear for me. I enjoy being able to see the struggle and pain on his face as he moves around. Straining to stay perfectly still so it doesn't fuck him up mentally too much. He's such a good little slut with his femboy training.
Imagine the surprise on his face when I told him what I had in store for him. He was going to go to the store and buy all new cleaning supplies in the color pink for him to use to do what he said. I could see the fear sliding across his face as he started to reach for his man clothes. Grabbing them I quickly opened the window tossing them out. There's no way I was going to let him get that on over on me.
"You have to wear what you have on, love," I told him as I handed him a pair of black patent heels in his size. He was growing more and more uncomfortable with each passing moment. You could tell that he really wanted to tell me he wasn't going
Stay tuned, my next blog will be about the events of the store! ♥