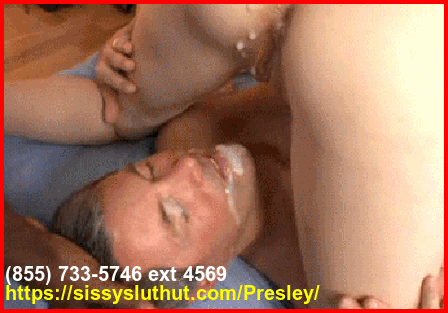 That's it Gary eat up all that cum you fucking sissy bitch. This is Gary, my newest cucky boy that needs some training from his favorite Bitchy Mistress Presley. He is my neighbor and he is such a little pussy; I always watch his wife bitch him out and he just sits there and takes it. I have been planning for months to corrupt him and make him submit every last piece of himself to me. I took some convincing but he finally broke and came over to my house.
This is his 2nd day of training and he is really learning so quickly who is in charge. He has to make sure he comes over when his wife works so she won't find out that his bitch ass likes to eat superior cum out of my cunt. She has no clue that this Bull has her pansy husband on his back eating his cum load out of my hole. He is grabbing Garry's head and pushing his face into my pussy while we verbally degrade him. Garry is groaning and pretty disgusted with himself but his little cock is rock hard.
I started laughing and said "Wow Garry, look at that tiny dick of yours dribbling all that pre-cum as we use your faggot ass". He moaned and said "Mistress Presley can you please rub this over sized clit of mine as I eat and swallow this bulls cum load". I giggled and said "Oh, you want me to rub that pathetic clit; hmm I think I wanna put a little clit vibrator on you instead and watch you quiver like a good bitch". I turned up that vibe and watched this sub human sissy boy go crazy!