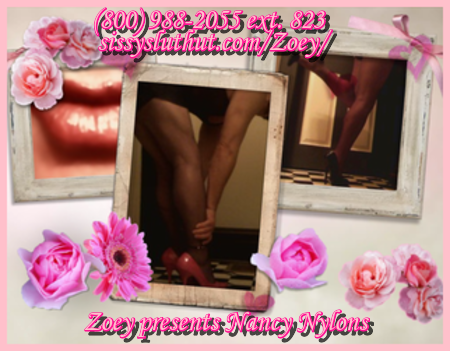 The following is a exchange about sissy maid training and more with a real sissy and real sissy pics!
Nancy nylons : Merciless….. thanks to You handcuffing my manicured hands to my red six inch high heels in order for me to be totally under his control.
Zoey: Yes completely handcuffed and willing to be our slave. You are going to be the perfect subject for other sissy whores. Glossy precum lips! Throat full, My strapon on you pretty pink puckered. sissy hole
Nancy nylons : Do You think that I should rub my lips with the precum oozing from my member right now? Just to tease us both right now and fulfill the sissy responsibilities of eating every bit for You?
Zoey: Yes you should baby you are the perfect whore run it all in right now that's an order! Yes your sissy responsibilities are on you right now ! Do it baby wear you sissy panties proudly as you do! 
 Nancy nylons : I'm coating my lipstick for you now and spooning it with my fingers onto my tongue! I'm so happy that You agree with all of the women who have participated with Nancy in crossdressing over the years- every one of them took it upon themselves to be up front and inform me that if boys like me wanted to dress like a slut, Nancy would be always required to eat up all the mess that Mistress allowed her to make. You are All so hot for that- I feel so small when I partake in cum eating while Women watch me! I'm sorry but I'm completely covered in my mess and must clean it up. Thank you so much and maybe we can Skype next so you can watch it and make fun of me. Perhaps You could tell me exactly how to eat it for you to enjoy the show the most— I think I could cum on my patent leather stilettos if you want to record it!!!