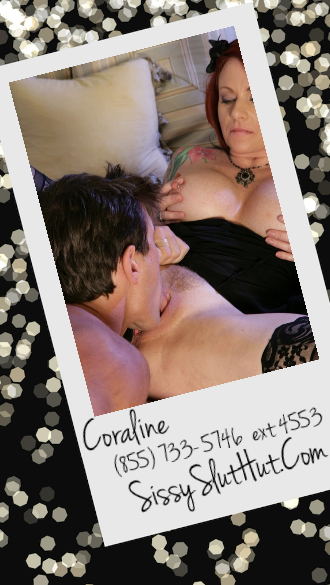 Mistress phone sex confuses many men. And I understand. It can be one of two things. It could imply that the girl you call is a side piece. The sexy girlfriend you fuck, and your wife knows nothing about her. Or it could mean you are submissive to a sexy dominant woman. Although I may specialize in sissy calls, I am still a dominant, in charge woman.
Before I became a sissy trainer, I made a living as a full-time dominatrix. Although I do have a soft, nurturing side to me, I expect all my callers and all my real-time clients to listen to my instructions. And I expect obedience and servitude. Even sissies need to worship my cunt. And sometimes my cunt has cum inside it. If you squawk at eating my creampie, you will eat my asshole too.
If you call me for sissy phone sex or just because you need a dominant mommy type, be prepared to worship at my Y. Recently, I met a new man. We met unconventionally but he new I was a dominant woman. He does not classify himself as a sissy. He holds no interest in sucking cock or dressing up. However, he does want to submit to women.
Eat My Cream Pie Pussy, Loser
Once we got back to my place, I took my clothes off and told him to eat my cunt. And he balked at the idea. I told him to leave, but he refused. So, I texted a big black bull that I had an unruly client and needed his help. And within 15 minutes, Tyrique came to my rescue. My little non cock sucking non pussy eating loser got schooled on who's the boss.
And he got a taste of cum and cock and he did not like it. My black lover tied him up and forced him to watch me get fucked. After Tyrique came inside me, he forced his cock in my bound loser's mouth. Now he got a taste of my yummy pussy. And he got a taste of black cock spunk when Tyrique forced his head between my legs to clean up his mess.
Now my unruly loser understood that I am a phone domination specialist. You call me or book real time with me, you follow my rules, or you get something you do not want, like big black cock.