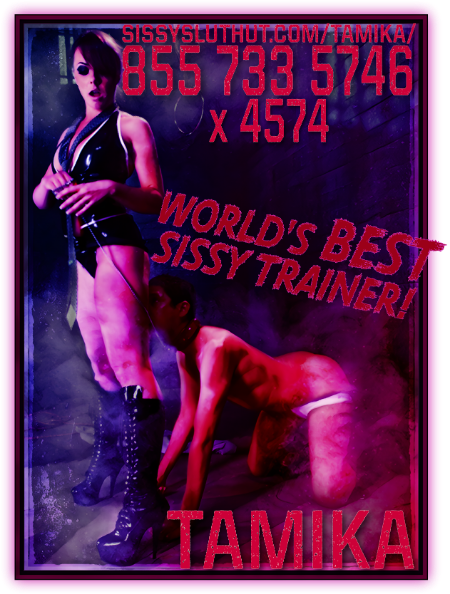 All of my pretty, prissy, cum slurping sluts agree, Mistress K is the world's best sissy trainer and can whip any wimpy boy into the slutty slave girl they dream of being.  I haven't met a wannabe he-whore yet that I couldn't craft into a fine, fuckable little fairy.  Think you're too manly to be turned into a tranny tramp, too studly to be made to take every BBC that I tell you to stuff into your mouth and/or butt?  I'm not afraid to tell you, I'll turn you into a freaky, jizz loving fairy fagboy before you even pick out your favorite shade of pink.
I don't care what kind of life you lead, my specialized slutification schooling will work right into your routine until you fully embrace the fact that you're nothing but a little sissy bitch who's been living a total and utter lie.  The Mistress to end all Mistresses knows that your normal life is complete bullshit full of nothing more than monotony and general malaise.  I know you dream about getting all dolled up and turning yourself into a big bone taking beauty, but you don't let yourself for some reason or another.  Work, wife, friends, whatever it is, it doesn't matter.  My training will turn you into the trampy trollop you really want to be and you won't care who knows about your penis loving proclivities. 
You're in good hands, but you don't have to take it from me.  I have tons of testimonials from my clitty queens that have reaped all of the big dick draining benefits from my sissy slave training.  You can see for yourself, my meat juicing methods get results and those results are raunchy as fuck and covered in cum.  I tell all of the unsure Andys and wishy washy Willys who call me up to go ahead and try out some other sissy trainers if my tutelage is a little too much for them.  If you can take it though, my goo guzzling, he-whore guidance will turn you into the sexy slut you've always wanted to be.  I guarantee it!