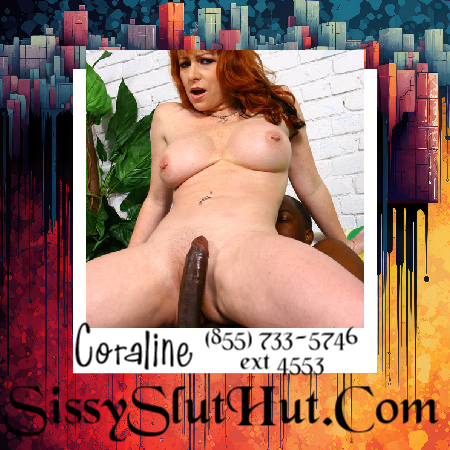 I'm a BBC sissy trainer. Want to know why? Because I require something I can feel in my pussy. Mature women know that black cock is superior. I have not fucked a white man in quite some time. Although, I do acknowledge that big white cocks exist. However, I find that I encounter them far less. Several sissies under my wing on and off the phone pledge allegiance to the Black New Word Order.
When a sissy wants black cock, I feed her. Even when a sissy does not want a big black cock, I give her one anyway. Not all sissies of course.  But I enjoy forced sissy training, especially when a sissy is unruly. Some sissies need forced into servitude with a big black dick. Derrick possesses a 13-inch big black cock. Although, it looks more like a forearm. And it feels like one too.
BBC for White Sissy Boys
Derrick came over last night. Now, he visited me for a booty call, but I had a sissy over. Derrick never calls. When his dick needs drained, he comes over. I am at his cock's mercy sometimes. I am not the kind of woman to pass on big black dick.  But my sissy paid for a session, and she became demanding of my time. She got downright rude with me. Well, Derrick did not stand for that.
This sissy decided to be a Ms. Prissy and got a blacked for being a little bitch. Derrick does not need an excuse to fuck a white sissy hole. I enjoy watching him fuck my sissies too. However, my sissy did not enjoy it much. But guess what? I do not care what a sissy wants. I mean I do like to deliver a good sissy experience. But I am a phone dominatrix and a sissy trainer. You cannot get unruly with me and expect to walk right the next day. You will get a black dick or my strapon.