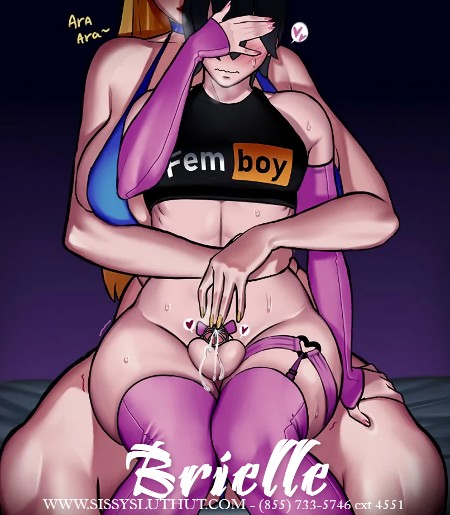 The fairy faggot thought he could attend Sissy training without wearing the proper attire. I couldn't bare to sit there and watch him stroke his fun-sized cock without at least putting a bow on it or something. Ya, it was nice to see the massive cocks he was drooling over in the background plastered all over the television screen… But that wasn't enough flattery for me to allow him to orgasm.
He knows an orgasm is something men with small dicks have to earn!
That's why I had him take us on a trip to the sex store. The cum hungry sissy that is in denial picked out a glamorous outfit while pretending I was his girlfriend on the phone… As if! He picked out a cute pair of yellow and orange polka-dotted sissy panties – Faggots love bright colors. He paired that with a pair of knee-high stockings that had big white satin bows on the thighs. It wasn't so surprising to see the effeminate man yet again pick out a sexy outfit that was appealing.
I made him ask the cashier if they had extra small condoms while checking out…
She couldn't hold back her laugh! She laughed so hard she forgot to answer the question… So I made him ask again to assure her that this was – not – a joke! Awee, they don't make condoms small enough for his micro-peen. Not like he needs a condom anyway! After all the only thing wrapping around his peenie is the palm of his hand… We probably should have just asked for a female condom so he could shove it in his bussy lol. When we got back home he was so excited to dress up in his new outfit and satisfy his favorite Goddess during Online sissy training. After all, it had been a while since he had squirted… He was trying to hold his load for his so-called girlfriend.
He is left deprived for weeks on end which leaves him no other choice but to dress up like the epicene faggot he is and stroke his whittle cocky-wocky.