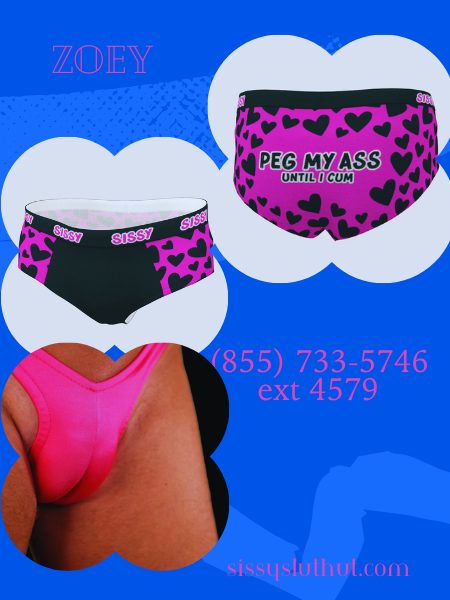 Sissy panties come in all Variations. I love the ones with sexy slut sayings and pussy forms for my sissy sluts. You know the ones that make you have camel toe in some sexy leggings? Anything to make my sluts feel more girlie! I love helping you shop for the best pair of panties and all the sissy gear! We live in a time where you can buy most everything right off the world wide web. I am fully educated in the ways of sissydom.
I know that every sissy is slightly different and has circumstances that differ. Zoey is here to pull all of that feminine spirit right out of you. I love getting lost in calls where a man is thinking about his shame. Hesitant to give me the full details of his life. The newbies who have barely begun this lifestyle are candy to me.
How can I be the best Mistress for you?
Oh; and let us not forget and the old sissy whores who need a bit of Forced sissy training. The men who neglected that side of themselves to have a family and career. Now as retirement sets in they can be free to be a sissy! Now with my expert hands, we can finally make them into the doll-like cum whores they were always! I take my time feel you out and guide you as best I can.
I have men who just were cucks for the longest time. Living in tease and denial oftentimes. Knowing what draws you to me is this . I have never been hardcore or very mean. I let you bloom and lead you down the feminine way. Not to say that humiliation by my hand is nonexistent. Just that you will be surprised by the turn our call makes at times.
What turns your sissy ass on?
Being the best sissy trainer for you is based on so many factors, Let's see if we connect. Some of my personal favorites are BBC Worship, Sissy dress up, and Sweet Teasing. Oh and don't forget me and My girlfriends have a massive collection of toys and strap-on attachments that fit any sissy pussy. So call me and let's compare cock stories and more. Zoey is sure we will find some common cumming grounds.