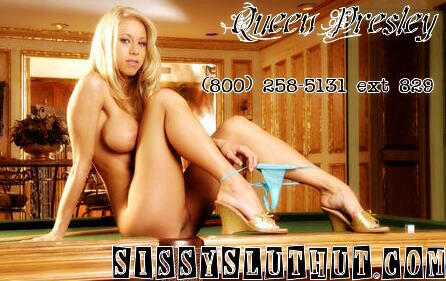 How about you put on your pretty girl panties, and show me what a good girl you can be? You tell me how desperately you crave to be a submissive, sissy slut, but I see absolutely no effort being put in to your own transformation. I can't make diamonds out of coal if I don't apply any pressure?
Get dressed, and call me honey. The pressure is on. You're going to obey my every single command, and do exactly as I say. No questions, no defiance. Do you understand? You can't avoid who you're meant to be, sweetheart. You know damn well you're desperate to put those panties on, get on your knees, and suck a huge, dripping cock! You know how badly you want to taste that cum pouring down your throat. Cock sucking is, of course, part of your forced sissy training honey.
How do you expect to ever please me, let alone any bulls, if you can't even stick a toothbrush to the back of your throat? I'm going to take you out on the town, and really show you what it means to be a fucking whore. By the time we get back to my place, you'll be dripping cum and begging to clean out my cream pie'd little cunt. Cum on now, show me what you're fucking made of; I love a sweet sissy fag.