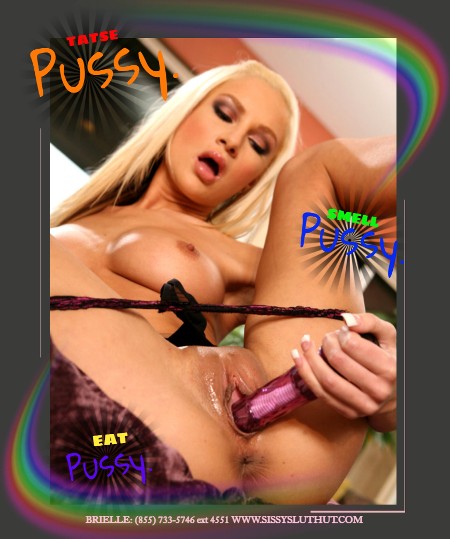 Men are hypnotized by my pussy and that includes sissies! Whether its envying my vagina or wanting to lick me clean after watching me get barebacked by a girthy dick.. You want it! I love teasing you while dragging my finger up and down my freshly waxed pussy, watching you pout because your dreams of having one will never be.. A surgeon may be able to button you up down there but you will never be able to breed… I have you slip your finger inside of my pussy and address me as your goddess, while you feel my warm rigid walls wrap snug around your fingertips.. Worship my pussy as you fall under a trance.. I grab you by your blonde wig and pull you in closer..
You felt so lost until you found Online sissy training.. You feel my pussy pulse as I lead you closer to your destiny, a slave for my pleasure.. All of those gloomy thoughts and questions fade away.. You love my pussy, you want my pussy it's everything you have ever dreamed of.. You want to please me and honor me as your goddess. Your mouth starts to water with the need to pucker your lips and lick my moist pussy.. I pull you closer and tell you to pucker up.. Press those plush lips up against my pussy lips and smell the sweet aroma of my pussy fill your nostrils.. Completely aroused! Grinding my cunt in a circular motion around your face.. Your little clit hardens, your eyes close you imagine your legs are spread and this pussy of mine that you are kissing and finger fucking is yours.
Your sissy panties get all wet from the sensation that fills your body, your little clit starts to let out your pre orgasmic bliss. You dig in deeper eager to finally feel the feeling of a pussy orgasm, something your unworthy dick has never experienced.. You have accepted your fate! Under a trance, you repeat after me.. "I am a sissy bitch and a slave for you, I surrender." Squandering at my feet I lean back and moan loudly.. Orgasming, you are enticed by the walls of my pussy gripping and releasing your finger.. Fascinated and wishing you could experience the same. I have you tug your little weenie and smear my pussy juices on your nub. Reminding you that in fact this is the closest you will ever get to having a pussy, Sissy slave training for you has only just begun!