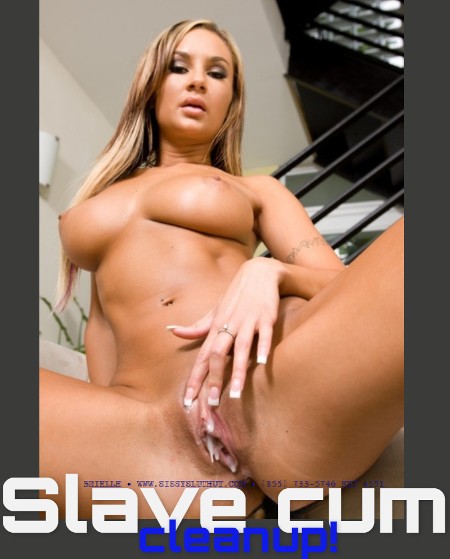 Richard, must have gotten lost surfing the web, he was sucked in by my naughty desirable photos.. Men, so naïve! Well, he called me up in an attempt to dominate me.. I giggled, I knew the fucker had to of had no idea what he was getting himself into.. What else would a straight man want in the sissy slut hut..
He wasn't calling for Online sissy training nor was he wearing a pair of sissy panties. He wanted to try and break down an alpha female.. I reeled him in, made him think he was strong enough.. Only to have him down on his knees swirling my silky smooth waxed pussy all over his face. I propped my ass up onto the edge of the bed, spread my legs wide open with my clear platform mules planted on the floor and ran my fingers in and out of my pussy while biting my bottom lip.
The look in his eyes as I pierced him with my emerald green eyes, sent sensations through my body.. My nipples were rock hard! His vibe sent vibrations through to my soul. My pussy was pulsating… I wanted his cock inside of me.. I wasn't going to show him that I was weak.. I kicked my heels off, grabbed him by his tie and guided him onto the mattress.. shoved my foot in his mouth and made him suck the diamond rings off my pretty pink toes.
I unzipped his pants, puckered my lips and blew wind at his dick.. He was ready to blow but I wanted to slow him down a bit.. I sat back and caressed on my perfect tits and traced my body with my fingertips.. The arches of my smooth feet were wrapped around his cock.. Teasing and stroking, unable to deny him any longer. I grabbed his dick nibbled on the thick vein that ran from the base to his frenulum, causing his eyes to water and toes to curl. I bent over and let him fuck me bareback. He shot a huge cum load inside of my sopping wet pussy..
My cum guzzler is leaking – Sissy slave training is in session, I need a cum clean up!