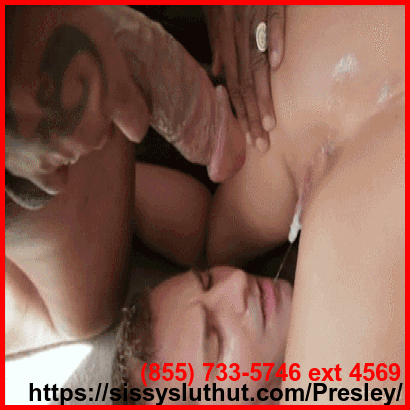 It is nice and early and a perfect time to start this little bitch on the next level of his training. We had a nice mid afternoon session with one of my favorite BBC bulls Tyrone. As you can see my little cuck bitch Andrew is beneath me and accepting his place and the inferior bitch boy. His job is simple; today is all about learning how to love the taste of a superior mans load. I promise when Tyrone and I are finished with his sissy ass he will love the feeling  of nice warm seed dripping in his throat and filling up his tummy.
First, Andrew was instructed to fluff for me and get Tyrone's cock nice and hard with his sweet little femboy mouth hole. I laid back and watched Andrew go to town as Tyrone played with my pussy. Andrew had trouble fitting his cock down his throat but we fixed that pretty fast. I slapped him in his face and shoved my fingers in his throat until he was gagging. I told that stupid fucking bitch that if he did not swallow his whole cock he would be dry ass fucked in his fag hole until he is a crying mess. He got the hint and immediately got better and took that dick in his pathetic throat. 
Next, we instructed the bitch to lay on his back underneath my sweet cunt and we lined Ty's cock up to my hole perfectly. He slid inside me and his balls were dangling down to Andrews chin, it was so cute watching him struggle underneath me. Ty fucked me so hard so those balls would smack that fag boy in his face over and over again. I was dripping wet and all my juice and Ty's pre-cum was dribbling down all over Andrews sweet face. He was tearing up because he knew it was almost time for his final task. Ty pumped my cunt hole just a little harder and blew his fat load inside me. 
There was so much cum I could not wait to see the look on bitch boys face. Ty pulled out and I dropped my pussy a little lower and began to push it out. We told that fag slut to open up his sissy mouth and beg for cum and he did. It dripped into his mouth and he took all of it right down his slutty throat. He held it in his mouth until I told him to swallow. We played this game for a few hours. Andrew, graciously swallowed about 5 more loads throughout the day. The sissy bitch is now a fully trained BBC fluffer and cum eater!