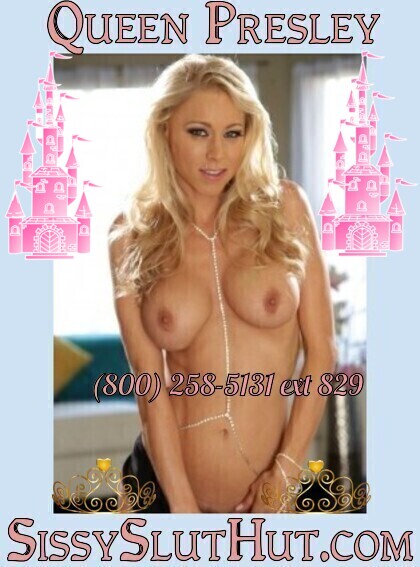 I know it's your first day as my sissy bitch, but don't think that I'll go easy on you. You came to me for some forced feminization, but you'll be taking a lot more than that in your little ass. Let's start by grooming you; every single part of you will be shaven, except for your hair and your eyebrows. Your hair will be grown out, or maybe we'll shave it off too and put you in some of my beautiful wigs. You're going to have bald little balls as I turn that tiny prick into a sweet little clit.
On goes your small clit cage. That's right, sweetheart. Queen Presley decides if and when you cum, and today is not that day. Now, lets put you in these panties; silken and pink, just like your princess heart. Your bralette will match, silky pink, pretty. We'll have to fill your bra until your tits come in; that's right, I'm putting you on hormone replacement therapy.
You don't want to really be a girl? Too bad, filth. You came into my castle, not shut up while I give you your first estrogen dose. Good. Up go your matching silk pink stockings, with a lace garter to match. Which gown shall I put you in? How about this pastel yellow baby? It goes with your beautiful eyes.
Now come here, let's put this black wig on you, to pale you out. I'll braid pink flowers into it. Oh, and bend over. Let me slide those silken panties aside to put in this pretty butt plug! It's got a perfect pink diamond on the plug, so when you bend over for bare bottom spankings, I can show you off.
That's my beautiful girl. Into these black heels you go. They lace up your calves. You're lovely enough. Come and sit by me in court; we'll giggle behind our fans as we peruse and pick out pricks for me to play with later. Come on, Princess. What a good girl.