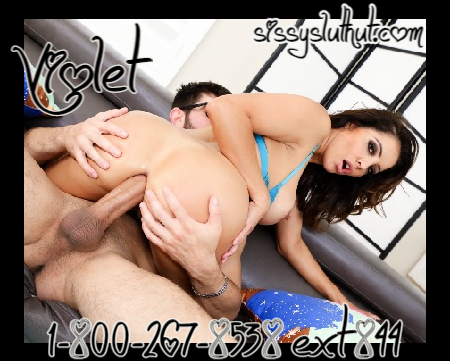 My sissy gets really excited to come over and train with my sorry ass little dick husband. I don't understand the appeal, but it sure does make me happy. They both are my sissy cucks who will do nothing but please me. Just their happy faces as I hand them their pretty nylon panties is a joy. My husband was being a total prick today and actually tried to touch me this morning in bed. I quickly put a stop to that. He knows better and I was not going to let that slip by. So, I called sissy and she came right over.
I directed my husband to come in and then they both stripped down. I greased up those butt plugs, had them bend over and I rammed them inside. I wasn't particularly gently with my husband either. Then I handed them their panties and told them to crawl to me like the pets that they are. As they scurried my way, my gentleman friend arrived. I instructed them to undress him and get him ready for Ms. Violet's beautiful pussy. They worked together, licking, and sucking his cock and balls. Then they guided his big thick long dick inside my cunt.
They watched as a real man pleased me. After me and my friend had explosive orgasms, the little sissies had tiny little wet spots in their panties. I laughed and laughed at them. Then I had them come and clean all of that thick warm cum from my pussy, patted their heads and told them to draw me a warm bubble bath.