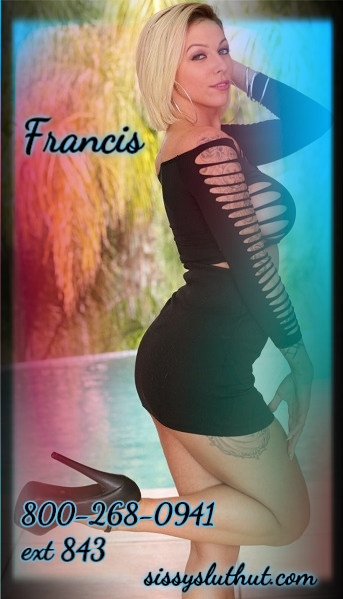 As you know I have a soft spot for my sweet sissy Brandie. I remember picking out her first tiny little cock cage. Her teeny little clitty being so small we struggled to find one small enough. I also loved hearing her fuck her man pussy with a big thick dildo for the first time too. She is an absolute joy and is now an absolute cum slut and cock whore. I love it. She was telling me one of her latest adventures and it is just too good to not share with you.
Luckily for Brandie she not only has me, but she has a lady that also uses Brandie for the little sissy that she is. So recently Brandie was cleaning this lady's house while the lady was getting her pretty pussy fucked by a real man. They were on the living room floor right in front of Brandie. Brandie's little clitty was leaking as she listened. When he finally filled the ladies' pussy up with his warm yummy goodness, she had Brandie crawl over and lick her cum filled pussy clean. As Brandie was cleaning up her pussy and beautiful asshole, she felt it….
Without any warning the real man had shoved his massive beautiful cock deep inside of Brandie's man pussy. As Brandie was being used like a slut and eating that beautiful pussy, she started to moan, and she couldn't control it. She came multiple times while they were laughing at her and calling her a whore.
"One of my best nights" is how Brandie described it. My little cum loving sissy slut sure makes me proud.
And you too can be one of my little pets, just pick up that phone and give Mistress Francis a call.