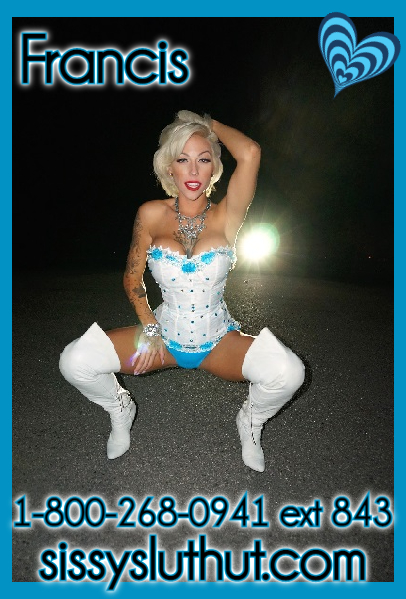 Oh, what a lovely job my sweet sissy has been doing lately. We have been training hard and she is wonderful. Her sweet little clitty has adjusted perfectly to her little cock cage and her sweet pussy is always puckered and ready for whichever butt plug I pick out. She has been my cock sucking, cum sucking queen. So as a reward I told her to pick out the sluttiest outfit she could find because we were going out to have some fun.
She never disappoints. She came running from the changing room and twirled with excitement. The bitch was fine. She had on black fishnet thigh highs, stripper boots, crotchless black panties and matching bra and a short black skirt and crop top. I applied some hot glittery pink lip gloss, smacked her ass and off we went. She had no clue where we were headed.
I stopped the car and parked and told her to get out. She looked confused but I kissed her cheek and told her tonight she would be my whore and I would be pimping her sweet tight ass and pretty glossy mouth out to all the perverts. She practically jumped for joy as I stuck my hand under her skirt and felt her little clitty leaking. I laughed as the perverted men started pulling up. I held my hand out and took the cash, smacked her ass, and told her to make sure they had a good time. Should I trick you out too baby?