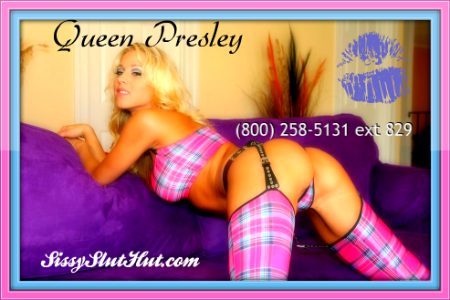 Even though we've been through several rounds of sissy phone sex training together, I know you aren't ready to go to the royal ball or to worship the balls of royalty! I don't trust that you could carry yourself with poise, little girl. I know you crave to be a little fem boy bitch, and that's exactly what I'm going to make you. But you're going to need lots of practice sucking cock before I even think about letting you step foot inside that Ballroom.
You need to learn how to deep throat it, fluff it up so it's all nice and ready for the Queen to get her royal cunt fucked perfectly. Think about how it would look if I brought some under trained sissy out to suck the cocks and worship the balls of my guests. The kingdom would revolt, and then I would have to punish you. Oh I could flay you, or beat you, but my favorite thing to do is to edge you endlessly.
That's right, if you displease me after I finished training you for this, you're going to regret it for the rest of your life. The last time you came will be the last time you ever cum. I'll keep you locked up, tight under key and shackle in my dungeon, and you'll be stimulated everyday all day on that pathetic clit of yours. Why? Just to drive you crazy.
So, stand up straight, give me your best sissy girl smile, and get ready for the most dangerous thing you've ever had to do; please the Queen.