A sissy bitch always gets her Sissy panties ripped off and fucked hard every time i feel like it. Sometimes it is as a reward or a punishment, but every time I have you licking my cunt until I squirt all over you. All you are to me is a worthless sissy bitch who by chance I took pity on because your wallet was worth using. Your job is to prove to me you are worth me introducing you to my favorite BBC. He is alpha and will not accept anything less than full cock worshiping and submission from any slut he plays with.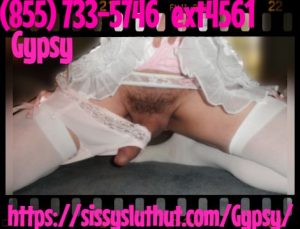 Even I had to submit and take his big black cock when I first met him. Start with you on your knees ready to use your sissy mouth. Then I will guide your mouth right on his cock ready for him to abuse it just like i to see. You better not disappoint me. Use the training and practice you have received to get his black meat throbbing. Being the Best sissy trainer has given me good obedient sissy sluts who have not let me down, don't be the first. After you heard me, it encouraged you to suck his cock even harder.
I laid back and played with my cunt, watching you being a fucking whore always pleased me. BBC alpha bull pushed you down and ripped your panties off. It is time sissy bitch, take every inch and don't stop until you are full of his semen load. Bounce that pussy hard and make me proud. My big dick friend pounded you hard over and over, while you squealed like a horny pig. Finally, you started feeling semen pumping inside you and you begged for me to let your clitty leak. "Ahaha you filthy slut you love getting fucked, cum now"! After I said that, your clitty leaked all over the place. What a good mess you made to clean up.