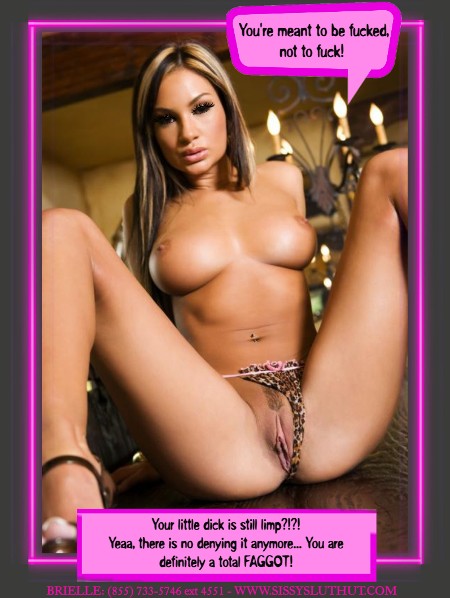 "Faggot, queer, you act like a girl.. You should be ashamed of yourself, walking out of this house in daisy dukes that are for ladies.. You will NEVER be a woman!"
No more pussy for you faggot! Sissy hypno training comes with ease… That's right, get down on your knees and eat this big phat cock.. You and I both know you would much prefer sucking your own cum out of your hand before having to bury your face between the legs of a woman.. You would love to be on a strict cock only diet. Repeat after me faggot.. "I love sucking cock!" Now get down on your knees and suck this big rubber dick while you tell me how bad you wish it were the real deal.. You love big juicy dicks and you go to the far end of the world just to feel comfortable being a cock sucker.. Continue sucking I want you blowing snot on my cock from your eyes watering and drool running down your chin!
No more pussy for you just cocks and yummy cummie for the sissy boy faggot! Bend over I want you begging like a little bitch.. I am going to dig my rubber dick in  your ass. Spread your cheeks for me sissy boy faggot.. Sissy slave training has only just begun! Close your eyes and fall into a trance digging deep into your ass.. You want to be fucked like a slut! mm, it's getting harder and harder digging deeper and deeper into your manhole.. it's tempting isn't it you want to slide your finger into your butthole and start massaging. *whispers* You wish you had a cock in your ass.. A real man is going to shove his throbbing hot veiny penis in your asshole. Get ready he's going to blow inside of you.. Say it slut, say it "I want to feel his cum drooling out of my manhole" "I am a cock craving faggot"
You want to trace the ridges of your pucker and smear his cum all over your manhole, don't you? You want to taste his cummmhm.. You would do anything to stiffen that cock once more so you can suck his alpha cock clean of your man juices. You know a king deserves to be treated as such.. His swollen balls pressed up against your chin as I whisper in your ear "relieve him " go ahead tell me you want to swallow say it "I want to feel his load dripping down my throat" You love the taste of cum! 
Your wife is just for show and tell, the truth is women don't interest you! Only if she would deprive you of pussy, you'd be so much happier. As if she'd get the memo and actually understood you like I do! All of the signs yet she is still "oblivious" You just can't speak up, you don't have the balls literally, so you come to me for Online sissy training in hopes I will give you the confidence to be the F A G G O T you were always sought out to be!