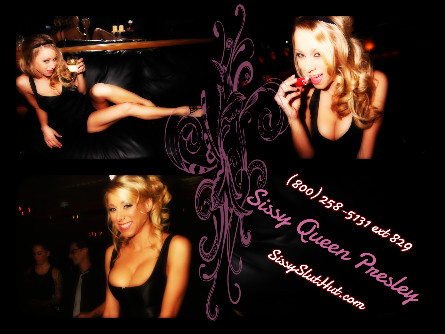 My sweet sissy girl Jenny Lee loves to have cyber sex sessions with me so we can do the dirtiest sissy shopping! She cums to me with her little clitty locked away in it's special cage – all pink and sparkly just how it should be. We do cyber sessions for hours trading outfit ideas, and when we have a concrete one, we go ahead and set up the scene! Jenny Lee and I get dressed slowly, putting on the music from the old days and rocking out like we're cutesy little girlfriends.
Once we're looking like sexy man eating sluts, we hit the town and show everyone what sissy party girls and their trainers are really good for. It was shot after shot, getting hotter and hotter on the dance floor as we were grinding up on each other and the sexy big black bulls that were gathering! They were eager for a taste of snow bunny white meat, and that only made my pussy drip more.
Before long, Jenny Lee and I were in the bathroom stalls! I was bent over and taking an eleven inch black hot rod, and Jenny Lee was choking down twelve inches of heaven!