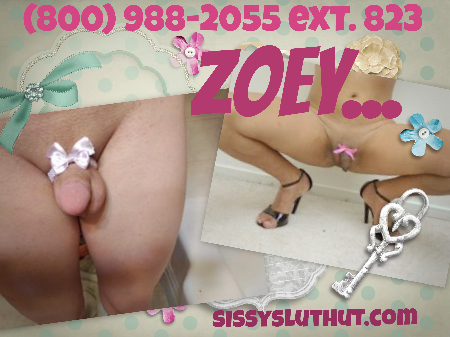 She has a pissy sissy with a tied up clit. 
I just don't know what to make of it. 
Ribbons and so on her sweet little credit card size baby clitty poo!
She loves to send me pictures of her wetting her panties too! 
Pissy sissy you are so cute and silly.
The ultimate sissy girly!  
I love her collection of dildos and butt plugs for her ass pussy. 
And the picture of her spread out showing off how she makes the best sissy. 
Pee in that cup,
Oh drink it up!
You're such a naughty girl who loves to be taunted. 
But I say if your going to be a little faggot it should be flaunted. 
Having a boyfriend or two, or even three is a okay by me! 
She says she needs a mistress.
But I'm more of a piss-tress. 
Oh my pretty dresses up girl loves to drink cum. 
Just squirt in a sippy cup and guzzle it, yum.
Tell her all about my big dick sexual exploits that make me wet. 
But sissy faggot can't cum just yet. She must grovel and beg for cum time. 
She knows I own her; she is all mine!
Are you a sissy slut, 
who likes it up the butt?