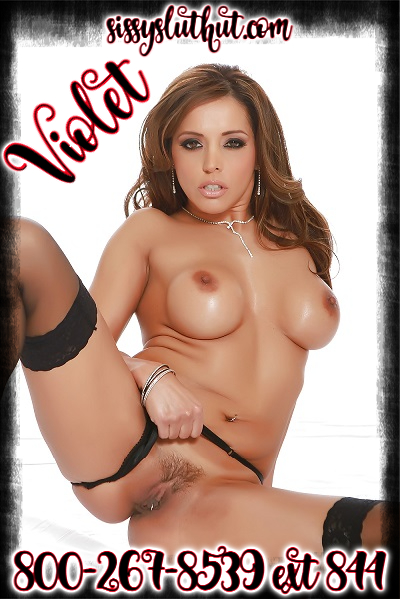 Mistress Violet takes no shit from anyone and that includes her little sissy ass husband. So, let me tell you what I made that man do for me when he decided to try to touch me without asking. I have told you before I want no part of that tiny thing. That small cock is not worthy of such a fine pussy as mine.
While he was at work I prepared for his punishment. I called one of my best sissies over to help as I laid out all my toys and changed. I met that sack of shit at the door as he arrived wearing my strap on. I didn't attach the big thick one because I already know he isn't worthy of that either. I told him that he would now be punished for putting his hands-on Mistress Violet without permission. I ordered my sissy to take off my husbands' clothes and attach the little bitty cock cage I had for him. My husband tried to back talk so I had sissy attach a ball gag really tight so I wouldn't have to listen to his worthless chatter.
Sissy then led him to my chambers where a bright pink paddle lay on the bed. I bent my husband over the bed and paddled his ass until it was bright pink. Of course, his little clitty was dribbling so I scooped it up and rubbed it into his tight ass. I told him to buckle up because I was about to tear his sweet ass up. As I started to push in, I felt his ass start clinching so I pushed even harder. I took it deep and hard and fast. He blubbered like he didn't like it but the mess he left under his cock cage told a different story.