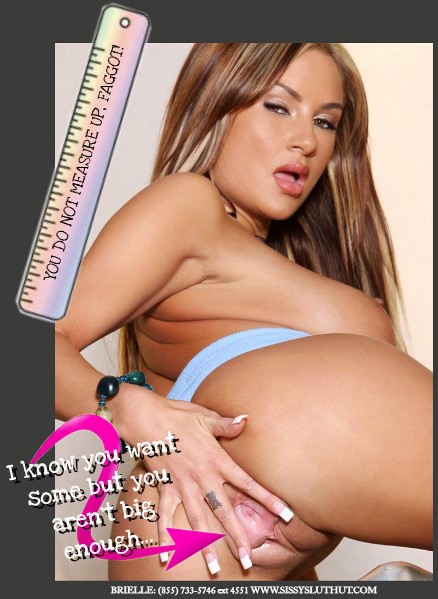 He is an obsessed white cuck slave.. My sissy snow-bunny loves having leftovers! I make him sit and watch me take joy rides on hard black long dick while he has his Sissy panties in a bunch. Being a cuck wasn't a decision of his own; it was more of a command. We've been on and off dating for a while and his measly cock just isn't pleasurable.. Every time he gets drunk he puts my clothes on and begs for us to go to bars downtown.. I've watched him prance around batting his lashes and chicken out, too many times.
That's why I decided to start bringing black men home after a fun girls night out! He wakes up to the sounds of me moaning begging to be fucked harder every weekend. He knows to put his dick in chastity and come find me. I am always sure to be in a doggystyle position having every last one of my holes plugged with a big black cock. I know its more of a tease to have to watch 3 men fuck me hard rather than just one, so selfish! LOL… He drools as he watches me get fucked and not just out of his mouth..
This is only the start of Femboy training, he has no idea that as soon as I get bored of teasing him he is going to be the one plugged up.. That's why I make him watch not just to tease but so he can learn. When I am through, getting a nice thick creampie I have him clean their black limp dicks of my pussy juice. Then give me oral until his jaw locks! I am always sure to save the orgasm for his face..
I smother him with my Cum filled cunt and grind my silky smooth pussy up and down until my clit explodes. This fucker is going to give in, he will soon be slaving for black cock as he truly desires. I am sick and tired of him not accepting his true self whether boyfriend and girlfriend or best friends till the end he will be my sissy 4evaaa! Even if it's through Forced sissy training, he's giving up his man pussy to something besides a rubber dick!