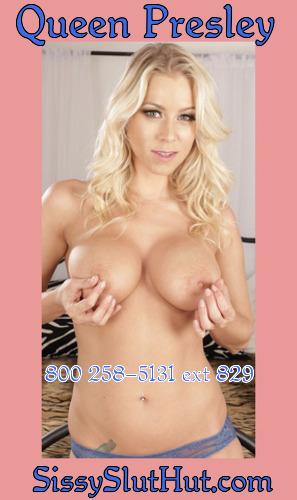 What in the BBC fuck do you think you're doing? You and I are both aware that this is not even close to the first time that I have walked in on you wearing a pair of my soiled panties, with another pair nearly attached to your nose as you sniff up every little splash of juice my ass and pussy have left inside them. You were wearing the best pair of nylons I own, stroking your cock with my silky, black stockings.
And you've been playing in my make up!? Why the fuck do you smell just like my French Whore perfume? Are you a little sissy faggot, really? Honey you have to be honest with me me about anything and everything. If you're wanting to learn exactly how to take big black cock, I'll help and train you! You won't take that cock only only down your throat but up your little fuck hole, I'm more than happy to assist.
You and I both know that I am the Queen of sissy trainers, that I will force you to be my sissy now that I've caught you in your little panty play party. You just love being a pathetic little sissy don't you? You wanted me to catch you all dressed up, playing in your little panty party, didn't you? You wanted me to absolutely violate you didn't you? Grab my big black strap on. It's time for a cock size session.