Best sissy trainer Addilyn is the woman that will steal any manliness left within you. You are not made to be manly. Look at yourself in the mirror. Take notice of your pathetically small little boy like. dare I even call it a penis… I mean just look at it!
Now take a look at a real man in his naked glory. Look at a real man with a flacid penis, see, even limp he is still bigger than you are hard. Now look at these big bulls plowing a woman in her pussy and ass. See that loser? Look at those hard throbbing fuck sticks!
Let's make sure that we are becoming clear on your inability to man up… You will be taking part in my domination phone sex focused on feminization of you. You will be easy since you are already not manly enough to please a woman with that thing between your legs. I bet when I mentioned those big bulls fucking that woman you started to salivate and feel something tingly in that clitty.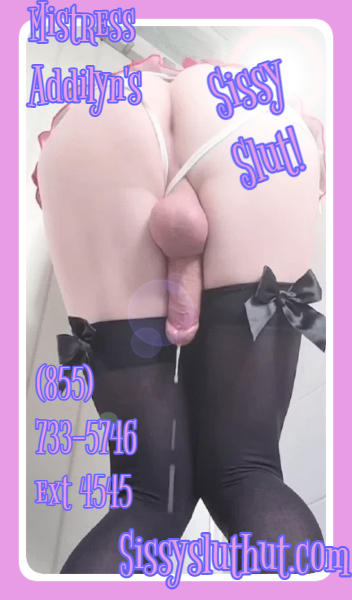 Let's see if you are capable of cleaning a cunt that has been creampied. First you will put on some panties and watch that big bull dick fuck me. Look closely now and put your tongue out. Lick that dick as it slides out of my cunt. And don't worry, once you manage to clean the sperm from Mistress's cunt we will move on to the cock sucking.